Pioneering new theatre program pilots peer-coaching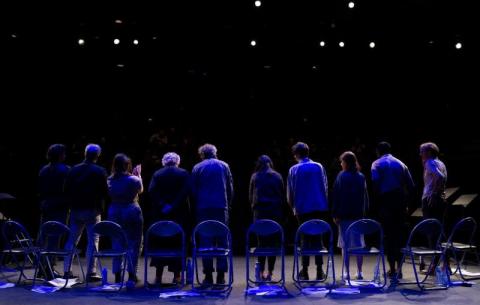 Australia's oldest continuously-running professional theatre company has joined an 18-month study with University of Queensland researcher, Dr Kate Power, to determine if peer-coaching circles can boost capacity, collaboration, resilience, and wellbeing in the arts and culture sector.
Arts companies around the globe found 2020 a challenging year, involving massive loss of income and tremendous uncertainty brought on by the COVID-19 pandemic. For La Boite Theatre Company, however, an investment of almost $1M from the Federal Government's Restart Investment to Sustain and Expand (RISE) fund means 2021 is looking up.
With this injection of funds, La Boite has created a ground-breaking new Artist Company who – together with key administrative staff – will be collaborating with Dr Power over the coming months to co-develop and evaluate a peer-coaching program for artists and arts enablers.
Chief investigator from UQ's Business School Dr Power said "Arts and culture leaders have long recognized a need for greater connectivity across the sector, but a sustainable approach to peer support has yet to be developed."
"This research pilots an existing peer-coaching guide and uses those results, along with a sector-wide survey, to design an approach to peer-coaching that is not only theoretically-informed and empirically-tested, but which addresses the interests and concerns of arts workers."
Dr Power said La Boite Theatre Company is an ideal partner for this research.
"La Boite is one of Australia's most highly respected arts organizations. Despite being a small-to-medium company, it showed tremendous leadership throughout 2020, running workshops and providing information to help independent artists and smaller companies understand the changing landscape around COVID-19.
"With the creation of its new Artist Company, La Boite will also model a depth of diversity rarely seen in Australian arts organizations, making it a perfect environment in which to develop and test our peer coaching model," Power said.
The "Creating Out Loud" Peer Coaching Guide will be made freely available online for artists and arts enablers anywhere in Australia. In fact, Dr Power is already aware of international interest in "arts and culture-focused" peer-coaching, suggesting the Guide could be used around the globe.
Dr Power's other industry partners in this research are Queensland Ballet and ArtsNexus. The project is also supported by and accountable to an Industry Reference Group comprising The National Association for the Visual Arts (NAVA), Theatre Network Australia (TNA), and Blakdance.
This research is funded by the Queensland Government's Advance Queensland Industry Research Fellowships (AQIRF).